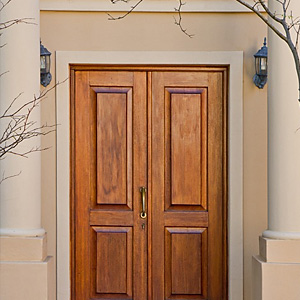 Interior Door Designs that Will Add a "Wow" Factor to Your Home
October 19, 2017
When you install interior doors in your home that are stylish, innovative and fresh, you will add new definition to each room's interior and entrance way with a creative new fashion statement for a definite "wow" factor. These doors can represent a fashion period in history, be recent retro in style, or display an ultra-modern creative flair. These doors may be crafted from beautifully grained timber or constructed of more modest woods and painted with your favorite matte or semi-sheen paint colours.
You may select doors with artistic glass pane insets that lend a glimpse of the next room's decor from the outside hallway or adjoining room. Classic French style double doors with multiple rows of clear glass panes have long been popular at the doorways of larger rooms like dining or living rooms, sunrooms and doorways leading to outdoor decks, terraces and gardens. That desirable "wow" factor can be created subtly or dynamically, according to your own personal lifestyle preferences.
Interior Door Designs for Your Favorite Type of "Wow" Factor in Home Decor
Internal doors that lend different types and degrees of soothing, sedate style, minimalist modes or playful pizzazz include the following popular choices:
Hinged Door Designs. - Painted or finished timber, hinged doors that swing open with traditional hinge and doorknob hardware in handsome brass or in wrought iron, for a more basic or artistic look, are still in popular use for interior doors in today's homes. In older or more ornate houses, elaborately designed hardware and molded glass doorknobs visually return household members and guests to earlier time periods in home style history. Although hollow internal doors are popular due to their lightness and often streamlined appearance, solid or semi-solid construction doors with sparkling upper panes of clear or clouded glass are favorites in homes featuring antique or handcrafted furniture pieces, since door woods can be chosen to complement these furnishings.
Sliding Door Fashions. - Interior doors that slide open and closed can be chic and stylish or playful and fun, according to your specific preferences and needs. When installing sliding glass doors with sleek chrome or aluminium framing for an attractive and functional noise barrier between your dining room and den, or leading from your living room to the outdoor deck, the sheer, stark, sliding wall of glass is a modern style statement that stands tall in all modes of contemporary decor. Colourfully painted doors in solid colors or depicting children's favorite film, comics, TV or story characters are also favorites for sliding doors on large built-in closets in youngsters' rooms.
Bi-Folding Door Styles. - These door designs are appealing and practical in the rooms of your home most frequently used. At kitchen or breakfast nook entrances or doorways leading to your upper level terrace or balcony, bi-folding doors in attractively painted wood or metal can be opened as much or as little as needed as you and others move in and out of these areas. Attractive Red Oak or Victorian Ash doors at the entrance of your utility room or family entertainment area can provide a seamless link to the stylish modern decor of your adjoining open concept living spaces. The easy folding function of these doors makes them popular, and they can be designed to suit any decor style and carved, painted, stained or polished to bring a definite "wow" factor to any interior room or space.
By consulting the door design and installation experts at Shandfield Doors with showrooms in Bayswater North, Victoria, you will gain the very best advice, designs, and installation for interior doors to complement and enhance all areas of your new or renovated home's decor. This highly experienced team of professionals will work closely with you to ensure that your new internal doors will make your residence the true home of your dreams.
Optimized by NetwizardSEO.com.au