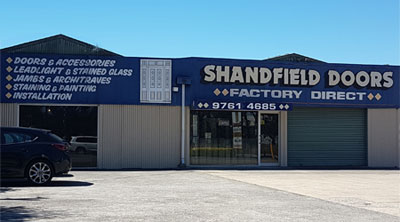 About Us
Shandfield Doors is based in Bayswater North and has been designing, building and installing doors for over 25 years.
This family-built business offers a professional and personal service, where outstanding quality is coupled by excellent value.
Our services Include:
All your door needs
Quotes and professional advice
Custom made doors
Leadlight
Quality hardware
Expert installation
All suburbs
We also provide complete services for the following:
Door installation
Staining/Painting
Accessories
Front-Entry Frames/Period
Jams and Architraves
Every door is unique as it is manufactured in our factory to the client's requirements.
Call Shandfield Doors to discuss your project, or visit our showroom which is open from Mondays to Fridays between 8am and 5pm, and Saturdays from 9am to 2pm.